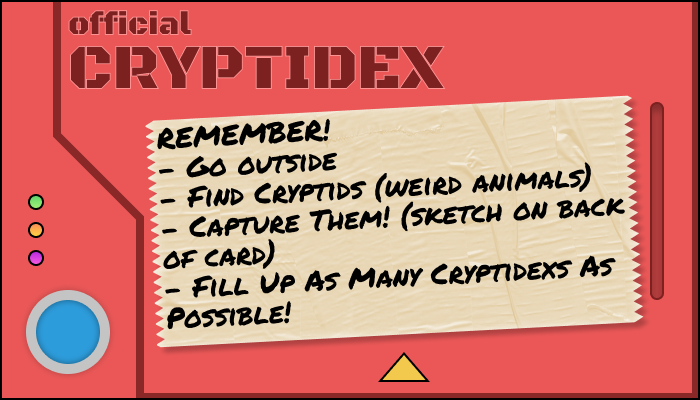 CRYPTIDEX 👽 ✍️
Firmware Update: New FULL SHEET Downloads Available
---
Hey Cryptid Hunters! 👽 ✍️
Good news: You can now download a "Full Sheet" version of CRYPTIDEX.
This Full Sheet version allows you to print out multiple cards at once, with 8 cards per page! You can download these Full Sheet version in all 3 color formats, as well as customize them to get Multi-Screen front & back, Dual-Screen back with No Tape Case front, etc.
I've also gone ahead & cleaned up the downloads. You'll now download .zip files which include what you need, instead of having a billion different versions cluttering up the homepage.


Enjoy!
Got any feature requests, changes, feedback, or want to share you cryptids you've captured? Make a post in the community board! We'd love to see it :^)
Files
FullyColored-IndividualCards.zip
72 kB
Nov 24, 2019
FullyColored-FullSheet.zip
2 MB
Nov 24, 2019
ColorFriendly-IndividualCards.zip
25 kB
Nov 24, 2019
ColorFriendly-FullSheet.zip
1 MB
Nov 24, 2019
BlackAndWhite--IndividualCards.zip
17 kB
Nov 24, 2019
BlackAndWhite-FullSheet.zip
1 MB
Nov 24, 2019